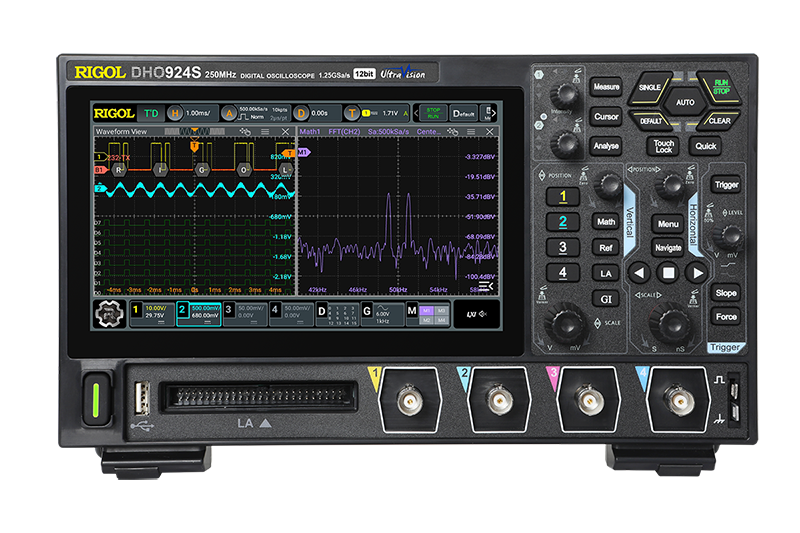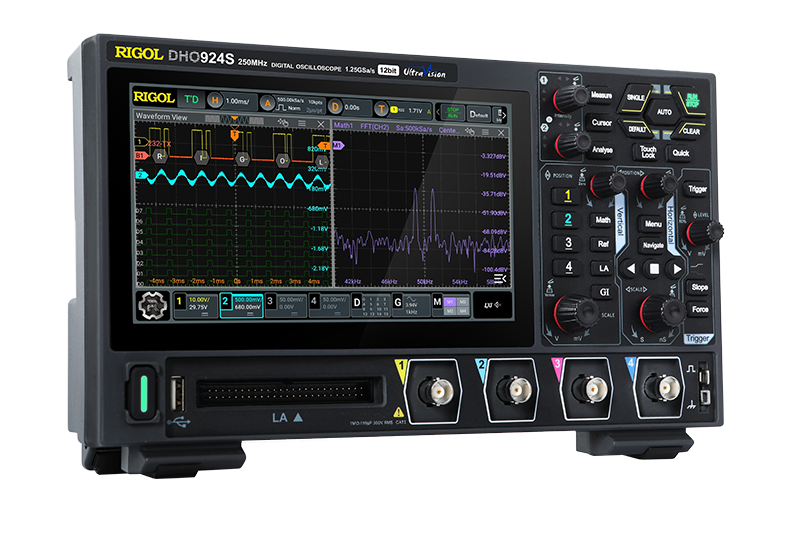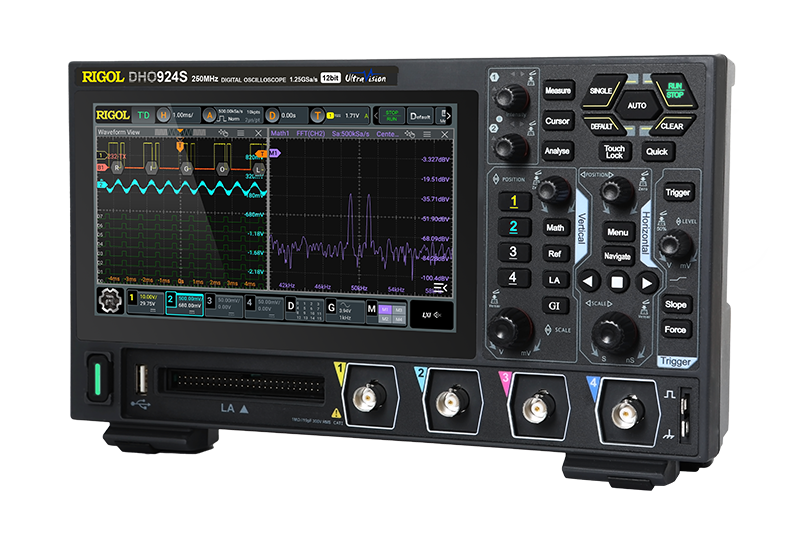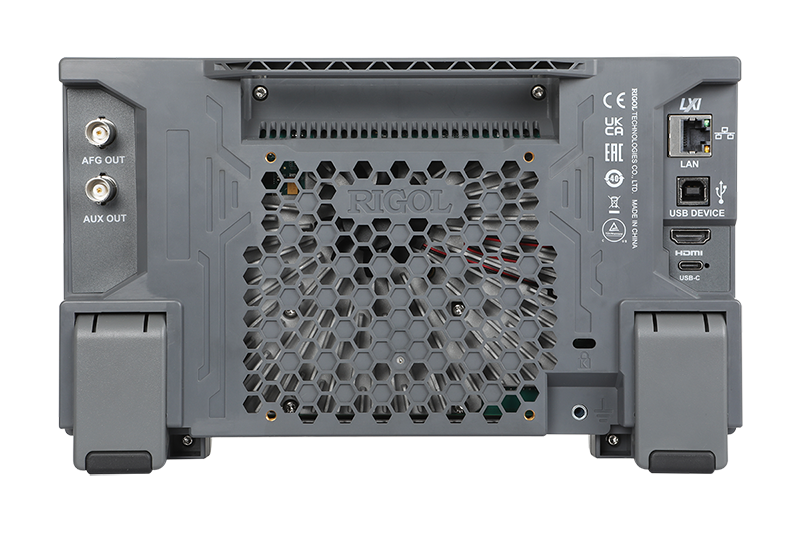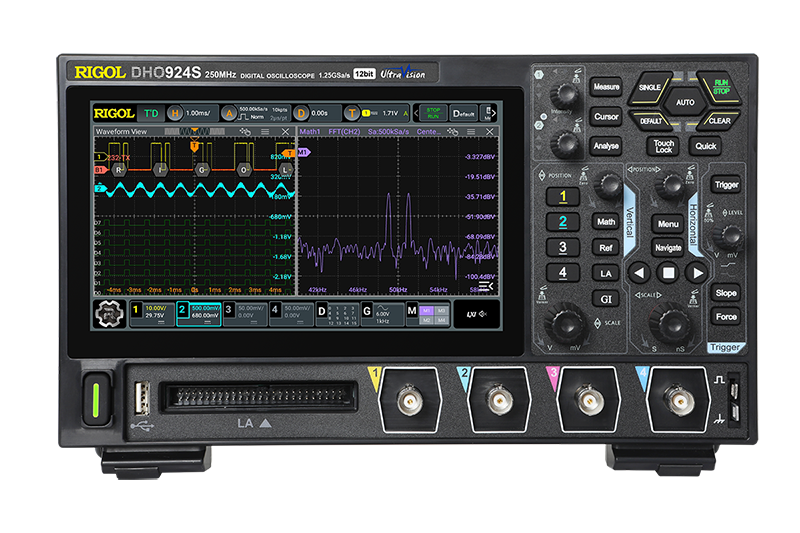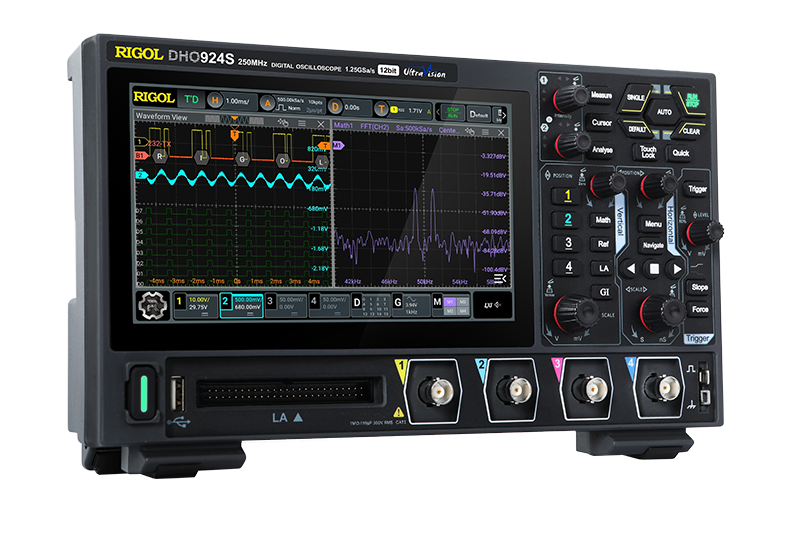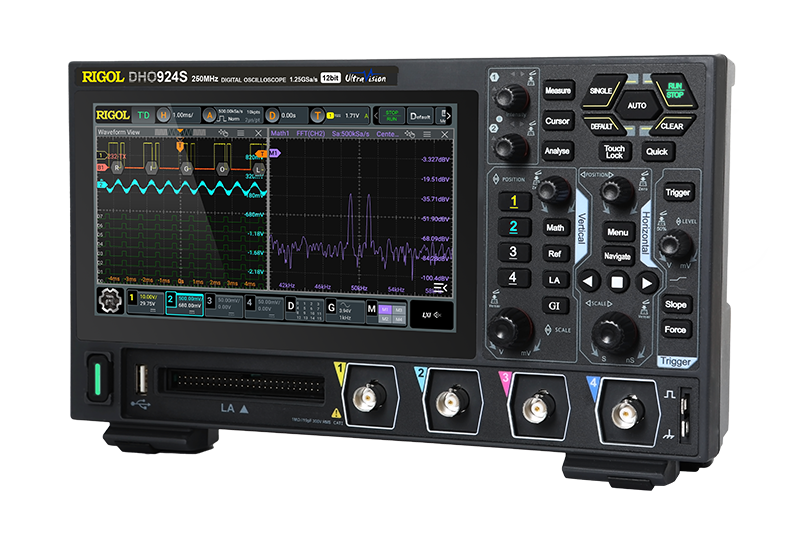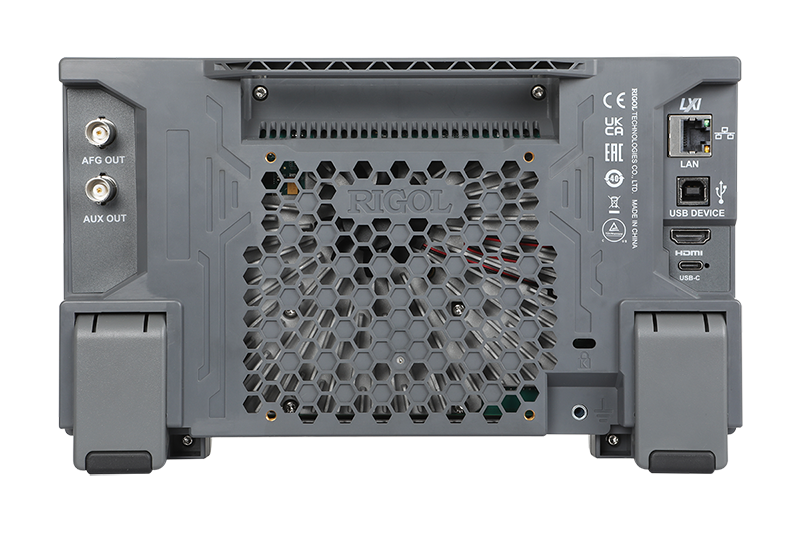 Oscilloscope numérique
Série DHO900
The DHO900 series digital oscilloscope is a highly portable and high-resolution digital oscilloscope based on RIGOL's "Centaurus" technology platform.
1.25GSa/s
Taux d'échantillonnage
50Mpts
Profondeur de mémoire
1,000,000 wfms/s
Taux de capture de forme d'onde


High-resolution 12-bit
12-bit vertical resolution with 4096 levels of quantization, 16 times the quantization levels of 8-bit, adept at handling small signal testing.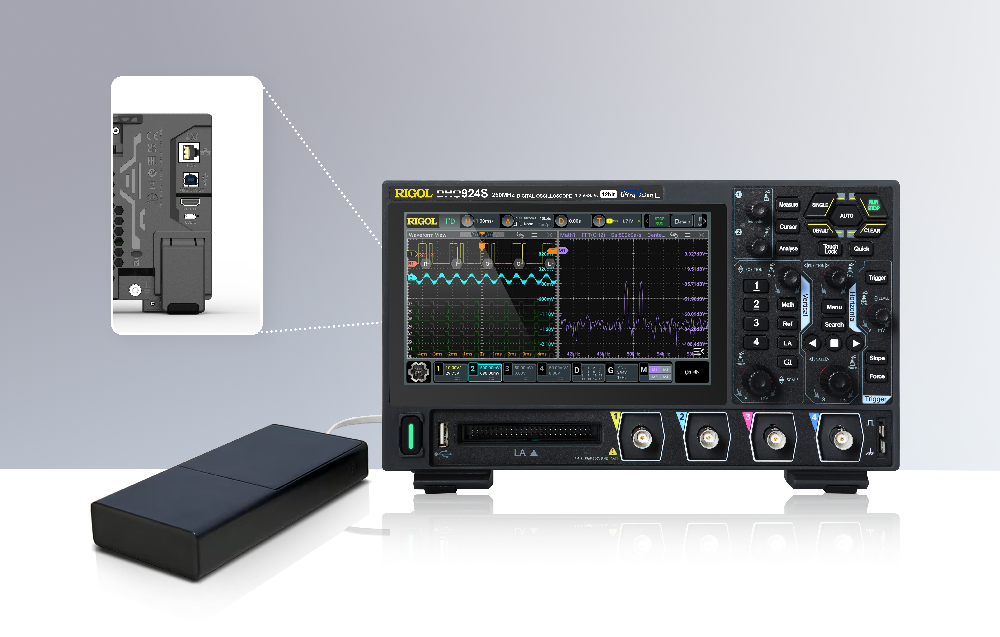 Support Type-C Power
Designed with a Type-C power interface, the DHO900 can be powered by just a portable power source, enabling on-site testing.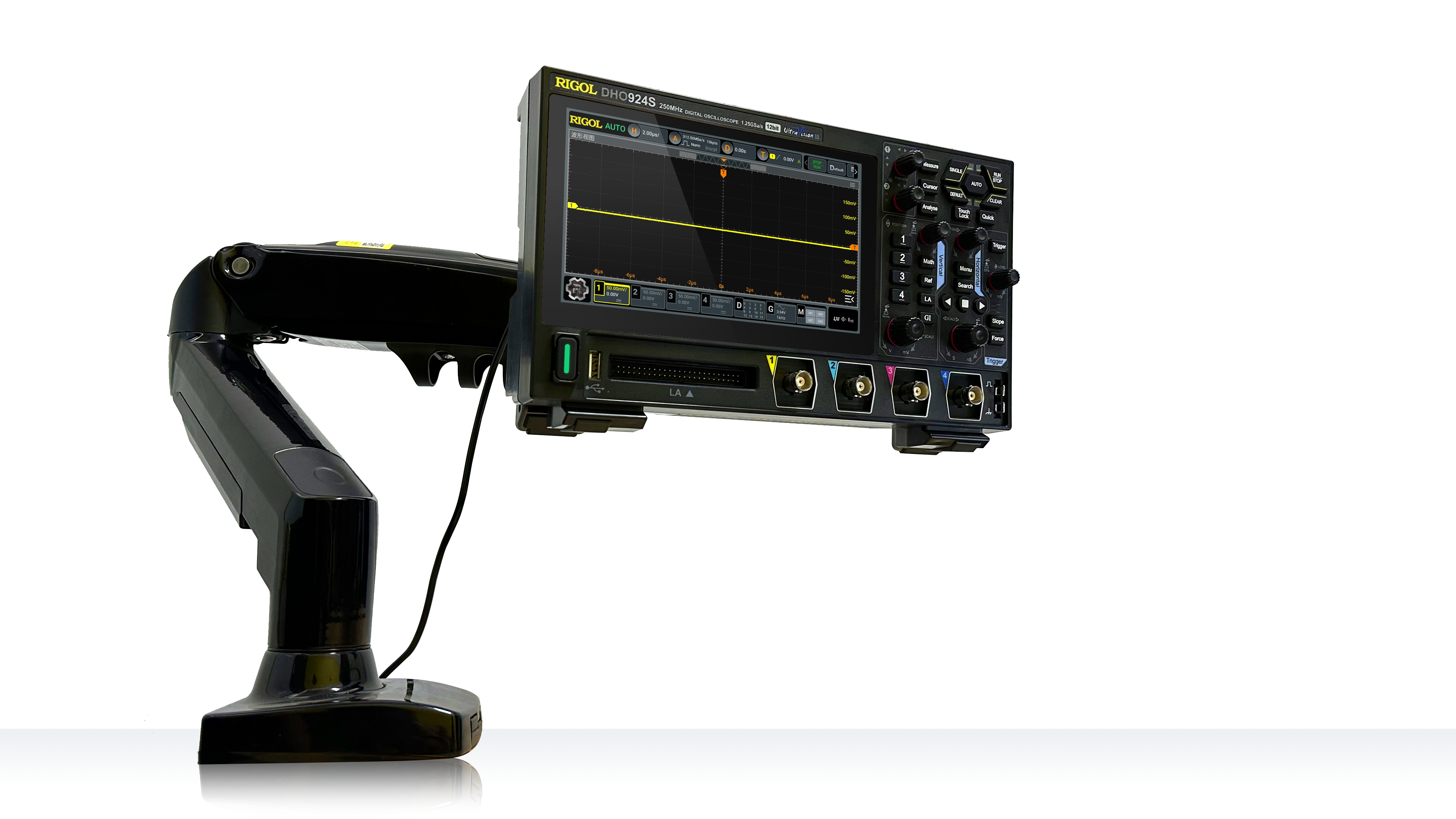 Sleek Design
The DHO900 series features a compact form factor and also supports standard monitor stand usage, effectively reducing desktop footprint and providing you with more ample workspace.

Supports Bode Plot Analysis
The DHO900S series comes standard with Bode plot loop analysis function, effectively addressing switching power loop response analysis.

Standard Digital Channels:
The entire DHO900 series comes equipped with digital channels as standard, allowing digital signal analysis when paired with the PLA2216 logic analysis probe.
MODÈLE

BANDE PASSANTE

VOIES ANALOGIQUES

FRÉQUENCE D'ÉCHANTILLONNAGE

PROFONDEUR DE MÉMOIRE MAX

TAUX DE CAPTURE DE SIGNAUX

LIGNES DIGITALES

GÉNÉRATEUR ARB. INTÉGRÉ

PRIX

DHO914

125MHz

4

1.25GSa/s

50Mpts

1,000,000 wfms/s

16(Probe opt.)

-

DHO914S

125MHz

4

1.25GSa/s

50Mpts

1,000,000 wfms/s

16(Probe opt.)

1CH

DHO924

250MHz

4

1.25GSa/s

50Mpts

1,000,000 wfms/s

16(Probe opt.)

-

DHO924S

250MHz

4

1.25GSa/s

50Mpts

1,000,000 wfms/s

16(Probe opt.)

1CH
TÉLÉCHARGEMENT DU FIRMWARE
NOM
VERSION
DATE DE SORTIE
TÉLÉCHARGEMENT
TÉLÉCHARGEMENT DU LOGICIEL
NOM
VERSION
DATE DE SORTIE
TÉLÉCHARGEMENT
SONDE PASSIVE
MODÈLE
DESCRIPTION
PRIX
MANUAL
RP1018H
18kV 150MHzHigh voltage probe
$ 988
RP1300H
300MHzHigh voltage probe(2kV)
$ 231
SONDE LOGIQUE
MODÈLE
DESCRIPTION
PRIX
MANUAL
PLA2216
16-channel logic analyzer probe
$ 399
SONDE DE COURANT
MODÈLE
DESCRIPTION
PRIX
MANUAL
SONDE DIFFÉRENTIELLE HAUTE TENSION
MODÈLE
DESCRIPTION
PRIX
MANUAL


Obtenez un devis

Envoyer un e-mail

Commentaires

Centre de services