RIGOL is Successfully Listed on Shanghai Stock Exchange (SSE) STAR Market Today to Start a New Chapter

2022-04-08

2


2
RIGOL is Successfully Listed on Shanghai Stock Exchange (SSE) STAR Market Today to Start a New Chapter
On April 8, 2022, RIGOL Technology Co., Ltd. ("RIGOL", stock code: 688337. SH) is officially listed on Shanghai Stock Exchange (SSE) STAR Market.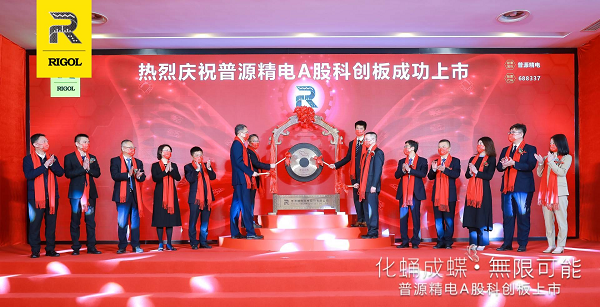 At the bell-ringing ceremony, Mr. Rico Wang, Founder and Chairman of RIGOL Technology Co., Ltd., gave a speech to express his sincere gratitude to government leaders, CSRC, SSE, industry association experts, partners, customers and investors from all walks of life. In the speech, Rico also expressed his vision for the company: "In the future, we will focus on customer applications and solutions and strive to become the world's pre-eminent test & measurement brand. Through breakthroughs on core technology, RIGOL will continue to promote the development and industrialization of high-end products. We will keep pace with emerging applications and technological developments and continuously tap into potential downstream markets. We hope that RIGOL can lead the innovation of test and measurement technology and contribute to the digital transformation of global customers."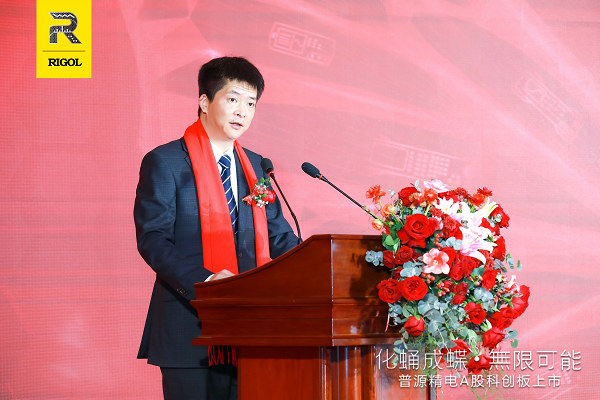 Since its establishment in 1998, RIGOL has always upheld the mission of "enabling technology exploration, empowering possibilities and more", focusing on cutting-edge technology in the field of international testing and measurement. RIGOL has now become a world-famous high-tech enterprise that covers the R&D, production, and sales of electronic test and measurement instruments. At the same time, RIGOL is currently the only Chinese company that is equipped with the core chipset of the self-developed digital oscilloscope and successfully realizes the industrialization of products. RIGOL's product line includes digital oscilloscopes, waveform generators, spectrum analyzers, RF signal generators, DC power supplies, DC electronic loads, multimeters, and data acquisitions.
RIGOL has developed an intellectual property protection system that covers its core product line. Up to June 30, 2021, RIGOL has 386 licensed patents and 346 invention patents. Among them, the number of Chinese authorized patents in the field of oscilloscope ranks first in the industry.
RIGOL achieves diversified industry coverage in the application directly in the time domain and frequency domain, including semiconductors, communications, new energy, quantum, engineering, etc., providing system-level, module-level and chip-level multilayered solutions. RIGOL will follow the development trend of 5G, Internet of Things, automotive electronics, consumer electronics, and other emerging application fields, and continue to focus on the electronic measurement field from chip design to independent R&D and industrialization of instruments and equipment.
Not only in terms of technology, RIGOL has also established clear strategic planning and layout in various dimensions such as talent and marketing. RIGOL will continue to lead development through culture and ensure the future of talent through scientific management. RIGOL takes this approach to ensure that the talented team can grow together with the company and share the future. At the same time, RIGOL will continue to increase its brand recognition and strengthen its market position in the electronic test and measurement industry.
Today's listing is a recognition of RIGOL's strength and marks a brand new stage for RIGOL. In the future, RIGOL will continue to adhere to technological innovation, continuously improve its core competitiveness and give back to its customers with more reliable products and better service.

2